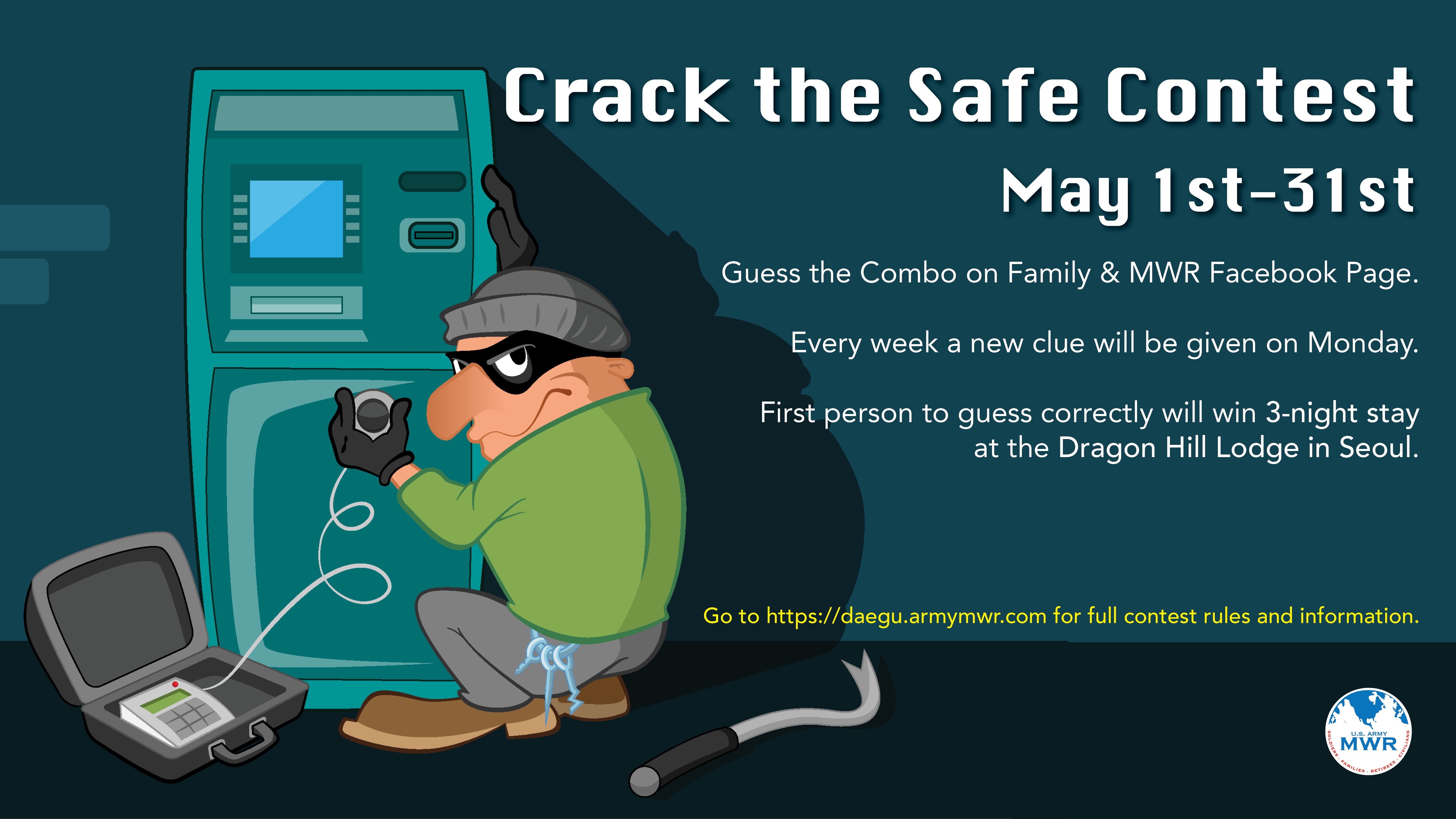 Note: This event has already passed.
Date: May 1 2020, 12 a.m. - May 31 2020, 11:59 p.m.
HOW TO ENTER: Go to Daegu Family and MWR's Facebook post and guess the safe combination on the Contest Post. The combination is six (6) digits made up of single digit numbers, zero though nine. Every week a new clue will be given for one of the numbers in the combination. Once the clue is given, it will start a new contest post for customers to post their combination to in order to be eligible to win. The former post will no longer be a valid post for entries. A clue will be given on Monday every week following until the safe is cracked.
One entry per person per day.
First person to post the correct combination will win 3-night stay at the Dragon Hill Lodge in Seoul.
Prize must be picked up in person. A photograph will be taken of the winner.
Winner must present DoD ID at time of pick up. Participants must be 18 years of age or older to be eligible to win prize. Participants who are under 18 will forfeit their prize automatically and it will go to the second person to get the correct combination.
The Crack the Safe Contest is open to Active Duty Army, Department of the Army civilian employees, US Army Retirees, KATUSAs and members of the Army National Guard or Army Reserve that are living in USFK Area IV. Family Members of the above groups, with a military/Government ID card are also eligible to participate. Family and MWR Employees, their family members and other individuals engaged in the development and implementation or direct execution of this promotion, including Army senior leadership and the marketing staff, may not participate in this promotion. The Contest is in no way sponsored, endorsed or administered by, or associated with, Facebook. By entering, you understand that you are providing your information to US Army Family and MWR.
In the event USAG Daegu Family and MWR is prevented from continuing with the promotion, or the integrity of the promotion is severely undermined by any event beyond the Army's control, including but not limited to fire, flood, epidemic, earthquake, explosion, labor dispute or strike, act of God or public enemy, satellite or equipment failure, riot or civil disturbance, war (declared or undeclared), terrorist threat or activity, or any federal, state or local government law, order or regulation, order of any court or jurisdiction, or other cause not reasonably within the Army's control (each a "Force Majeure" event), the Army shall have the right, in its sole discretion, to abbreviate, modify, suspend, cancel or terminate the promotion without further obligation. If the Army, in its sole discretion, elects to abbreviate the promotion as a result of a Force Majeure event, the Army reserves the right, but not the obligation, to award the prizes from among all valid and eligible participants received up to the time of such Force Majeure event.
LIMITATION OF LIABILITY: Participants agree to hold harmless Army, USAG Daegu Family and MWR, THEIR RESPECTIVE PARENT COMPANIES, AFFILIATES, SUBSIDIARIES, DIVISIONS, THEIR RESPECTIVE EMPLOYEES, OFFICERS, and DIRECTORS for any liability of any kind resulting, in whole or in part, directly or indirectly, from participation in the promotion or acceptance/misuse or nonuse of the prizes awarded. Winners assume all liability for any injury or damage caused, or claimed to be caused, by participation in this promotion or use or redemption of any prize. The Department of Defense and the Army are not responsible for any defective prizes. By accepting a prize, the winner grants the Promotional Entities the right to use winner's name for purposes of advertising in any and all media, now known or hereafter devised, without notice, review or approval, without compensation, unless prohibited by law. USAG Daegu Family and MWR is not responsible for any typographical or other error in the printing of the offer, administration of the promotion or in the announcement of prizes.
Family and MWR will not be held responsible for entries which may be lost in transit, undelivered, delayed or illegible entries. Family and MWR reserves the right at their sole discretion to disqualify any individual who tampers with the entry process and/or void any entries submitted fraudulently; to modify or suspend the sweepstakes; or to terminate the sweepstakes and conduct a random drawing using all eligible non-suspect entries received as of the termination date. Family and MWR reserves the right to modify prize award procedures. Family and MWR is not responsible for technical, hardware or software malfunctions, telephone failures of any kind, lost or unavailable network connections, inability to access a website, inability to submit an entry, or fraud, incomplete, garbled, or delayed computer transmissions or inaccurate transcription of entry information, whether caused by Family and MWR, users or by any of the equipment or programming associated with or utilized in the Sweepstakes or by any technical or human error which may occur in the processing of submissions which may damage a user's system or limit an Eligible Participant's ability to participate in the Contest.